Combat Mission: Shock Force Marines was released in September 2008. It was the first expansion module to the base game . It adds the U.S. Marines to the game to the blue side and Syrian Airborne units to the red side. Both sides get new equipment as well.
General Information
The backstory of the game takes place in the summer of 2008. After a terrorist attack the Coalition forces, led by United States of America, invaded Syria in order to locate and punish those responsible. The Marine Expeditionary Unit's (MEU) task is to make an amphibious landing on the western shores of Syria and push on to Hims and down to Damascus eventually. The module has a new campaign for the marines and 16 new scenarios as well.
The biggest difference to the base game is the marine rifle squad which is the biggest unit there is in the game. 13 men squads with grenade launchers and machine guns ensure the most firepower any single unit has in the game. This means that each platoon has an extra squad and each company and extra platoon when compared to normal army units. The Syrians also get a couple of new toys to play with: T-90SA main battle tank and BMP-3 infantry fighting vehicle.
New organizations and equipment
US Marines
Branches:
United States Marine Corps Armor
United States Marine Corps Infantry
Weapons:
 Small arms

M16A4 assault rifle
M16A4 assault rifle W/M203 grenade Launcher
M32 Multiple Grenade Launcher (MGL)
M240G machine gun
M82A3 sniper rifle
M40A3 sniper rifle
M2HB heavy machine gun
Shoulder-Launched Multipurpose Assault Weapon (SMAW) rocket launcher
Mk19 grenade launcher
TOW-2 missile launcher
M72A3 anti-tank weapon
LAV family
Armored Personnel Carriers
Tanks
Light Vehicles
Marines Air Assets
F/A-18C/D Hornet
AV-8B Harrier
AH-1W Super Cobra
Syrian Forces
Branches (Army):
Syrian Airborne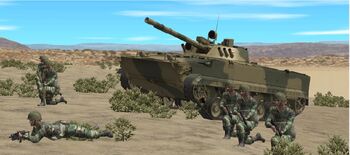 Weapons: Small arms
Infantry Fighting Vehicles
Tanks
Other Modules
Community content is available under
CC-BY-SA
unless otherwise noted.