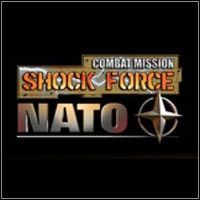 Combat Mission: Shock Force NATO was released in October 2010. It was the third and final expansion module to the base game . It adds the German, Dutch and Canadian troops to blue side.
General Information
Edit
The backstory of the game takes place in the summer of 2008. After a terrorist attack the Coalition forces, led by United States of America, invaded Syria in order to locate and punish those responsible. The module has three new campaigns for the new countries and 24 new scenarios.
The module adds most scenarios to date to the game in form of campaign scenarios as well as single scenarios. It also adds Syrian air assets to the Red side which they were lacking until this module.
New organizations and equipment
Edit
German armyEdit
Branches:
Gerbirgsjaeger Battalion (light infantry)
Panzergrenadier Battalion (mech infantry)
Panzer Battalion (armour)
Equipment:
Small arms
G36 rifle
G36 rifle W/AG36 grenade launcher
G36K carbine
MG4 machine gun
MG3 machine gun
G22 sniper rifle
G82 sniper rifle
HK-GMG grenade machine gun
Panzerfaust 3-IT600
Milan ATGM
DM 51 hand grenade
Infantry Fighting Vehicles
Armored Personnel Carriers
Tanks
Light Vehicles
German Army Air Assets
German Army Artillery Assets
PZH 2000
Mortar Tampella (120mm)
Mortar R (120mm)
Dutch armyEdit
Branches:
Light infantry company - independent (light infantry)
Mech battalion (mech infantry)
Tank battalion (armour)
Equipment:
Small arms
C7A1 rifle
C7A1 W/AG36 grenade launcher
C8A1 carbine
FN MAG machine gun
MINIMI Squad Automatic Weapon
M2HB machine gun
AWSM-F sniper rifle
Panzerfaust 3-IT600
GILL ATGM
Infantry Fighting Vehicles
Armored Personnel Carriers
Tanks
Light Vehicles
Dutch Army Air Assets
Dutch Army Artillery Assets
Canadian armyEdit
Branches:
Rifle company (light infantry)
Mech infantry
Armour (armour)
Equipment:
Small arms
C7A2 rifle
C7A2 rifle W/M203 grenade launcher
C8A2 carbine
C6 GPMG machine gun
C9 LMG machine gun
HK-GMG grenade machine gun
M2HB machine gun
C3A1 sniper
C14 Timberwolf sniper
C15 sniper
ERYX ATGM
M72 AT rocket (LAW)
Carl Gustav
C 13 hand grenade
Infantry Fighting Vehicles
Tanks
Light Vehicles
Canadian Army Air Assets
Canadian Army Artillery Assets
Mortar (81mm)
LG1 MK II Light Howitzer (105mm)
M777 Medium Howtizer (155mm)
M109A4 Self-Propelled Howitzer (155mm)
Syrian armyEdit
Equipment:
Tanks:
Light Vehicles:
Syrian Army Air Assets:
MIG-23
MIG-21bis
SU-25
SU-22
SU-17M
Mi-24P
Mi-24D
Other Modules
Edit