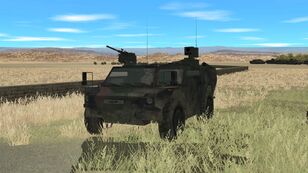 Fennek was developed by the Germans and the Dutch in collaboration. It is a 4WD lightly armored recon vehicle. It is protected from up to 7.62mm fire, but should be kept out of sight from anything more dangerous than that. The Germans have only one variant, the Dutch have three variants in use. It can be compared to the HMMWV scout variant used by the US Army. Fennek can be found in the game Combat Mission: Shock Force NATO.
Technical information
Edit
7.62mm MG3 (German Fennek MG)
M2 12.7mm MG (All Dutch variants)
40mm GMG (German Fennek GMG)
Lightly armored
Diesel engine
Weighs 9.7 tons
Crew: 3 (Leader, gunner, driver) (German variant) / 1 (Driver) (Dutch variant)
Passengers: 2 (Dutch variant)
 Variants in the game
Edit
NATO (CMSF):
Fennek (German): The German recce vehicle, armed with either a machine gun or grenade machine gun.
Fennek CP (Dutch): The Dutch Command Post variant.
Fennek MRAT (Dutch): The Dutch "transporter" variant with 2-man team on board.
Fennek Recce (Dutch): The Dutch recon variant.
CMSF NATO Game Manual V1.30
Community content is available under
CC-BY-SA
unless otherwise noted.