(10 intermediate revisions by 4 users not shown)
Line 1:
Line 1:
−

[[File:Placeholder|right|300px]]

+

[[File:||300px]]

 
+

There are a number of resources online and in print to assist CM fans. This article lists a number of links or at least references to information sources that will be of use to the WWII scenario designer.

−

Research for Combat Mission: Battle for Normandy can be categorized into a number of different headings.

 
 
 
−

General Historical Background

+

Historical Background

−
 
−

Scenario Design (Battles and Campaigns)

 
−
 
−

There are a number of resources online and in print to assist CM fans.

 
−

==Historical Background==

 
 

There are a number of good general histories online and in print.

 

There are a number of good general histories online and in print.

−

===Combat Mission: Battle for Normandy===

+

=== ===

−

*U.S. Army "Green Books" - are available online

+

* Army "Green Books" - are available online

−

**[http://www.ibiblio.org/hyperwar/USA/USA-E-Breakout/index.html|Cross Channel Attack] by Gordon Harrison

+

**[http://www.ibiblio.org/hyperwar/USA/USA-E-/index.html Channel Attack] by Gordon Harrison

 

**[http://www.ibiblio.org/hyperwar/USA/USA-E-Breakout/index.html Breakout & Pursuit] by Martin Blumenson

 

**[http://www.ibiblio.org/hyperwar/USA/USA-E-Breakout/index.html Breakout & Pursuit] by Martin Blumenson

⚫
 
⚫
 
⚫
 
⚫
 
⚫
 
 
 
 
⚫
⚫
 
 
⚫
 
⚫
 
⚫
 
⚫
 
+
 
+

== Links for Mapmakers ==

 
+

=== France ===

 
+

* [http://loisirs.ign.fr/accueilPVA.do Aerial Photos of France]

 
+

: aerial photos of France from 1947 onward. Note: not oriented with North at the top.

 
+

* [http://www.geoportail.fr/ Contour Maps of France]

 
+

: Maps with detailed contour lines. Thin lines represent 5 meters. Bold ones are 25 meters. The height difference of dotted lines varies.

 
+

* [http://www.battlefront.com/community/showthread.php?t=101470 How to Find Authentic French Farm Names]

 
+

: a question and some good answers, at the Battlefront forum.

 
+
 
⚫
 
+

=== Print Resources ===

 
⚫
 
⚫
 
+
 
+

=== Online Resources ===

 
+

* [http://www.battlefront.com/community/forumdisplay.php?f=126 Battlefront.com CMBN Maps and Mods forum]

 
+
 
+

== Mod Research ==

 
+

=== German Armor ===

 

Print Resources

 

Print Resources

 
+

*[http://www.amazon.com/Panzer-Colors-Vol-Camouflage-1939-1945/dp/0897470575/ref=sr_1_2?ie=UTF8&qid=1322947164&sr=8-2 Panzer Colors Volume I (Squadron-Signal Publications)]

⚫
 
 
+

:Out of print, but definitive general volume on camouflage and general markings of German AFVs and tanks from 1939-1945

⚫
 
 
+

=== German Uniforms ===

 
+

Online Resources

 
+

*[http://forum.axishistory.com/ Axis History Forum]

 
+

*[http://www.feldgrau.com/ Feldgrau.com Website]

 
+

=== Canadian Army ===

 

Online Resources

 

Online Resources

−

*[http://www.battlefront.com/community/forumdisplay.php?f=126 Battlefront.com CMBN Maps and Mods forum]

+

*[http://www..com/ .com]

 
+

*[http://forum.axishistory.com/ canadiansoldiers.com]

 
+

[[Category:Scenarios]]
---
Latest revision as of 22:52, 22 January 2012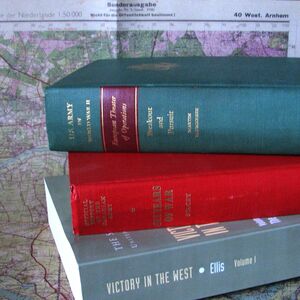 There are a number of resources online and in print to assist CM fans. This article lists a number of links or at least references to information sources that will be of use to the WWII scenario designer.
Historical Background[]
There are a number of good general histories online and in print.
The US Army[]
The United States Army in World War II (the "Green Books") - are available online; volumes dealing with the Americans in Normandy include:
Commonwealth Forces[]
Official History of the Canadian Army in the Second World War - is also available online
Links for Mapmakers[]
France[]
aerial photos of France from 1947 onward. Note: not oriented with North at the top.
Maps with detailed contour lines. Thin lines represent 5 meters. Bold ones are 25 meters. The height difference of dotted lines varies.
a question and some good answers, at the Battlefront forum.
General Scenario Design[]
Print Resources[]
Walker, Mark H. Combat Mission: Barbarossa to Berlin Strategy Guide (Battlefront.com, 2002)
Contains detailed interviews with CM scenario designers with tips and how-to advice that is applicable to the CMX2 game engine
Online Resources[]
Mod Research[]
German Armor[]
Print Resources
Out of print, but definitive general volume on camouflage and general markings of German AFVs and tanks from 1939-1945
German Uniforms[]
Online Resources
Canadian Army[]
Online Resources