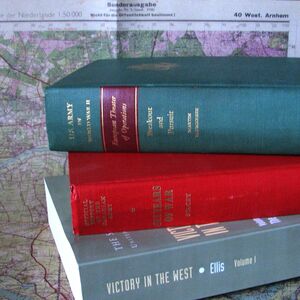 Research for Combat Mission: Battle for Normandy can be categorized into a number of different headings.
General Historical Background
Scenario Design (Battles and Campaigns)
There are a number of resources online and in print to assist CM fans.
Historical Background
There are a number of good general histories online and in print.
Combat Mission: Battle for Normandy
The United States Army in World War II (the "Green Books") - are available online; volumes dealing with the Americans in Normandy include:
Combat Mission: Battle for Normandy Commonwealth Forces
Official History of the Canadian Army in the Second World War - is also available online
General Scenario Design
Print Resources
Walker, Mark H. Combat Mission: Barbarossa to Berlin Strategy Guide (Battlefront.com, 2002)

Contains detailed interviews with CM scenario designers with tips and how-to advice that is applicable to the CMX2 game engine
Online Resources
Mod Research
German Armour
Print Resources
German Uniforms
Online Resources
Community content is available under
CC-BY-SA
unless otherwise noted.