m

 

(9 intermediate revisions by 4 users not shown)
Line 1:
Line 1:
−

United States army is one of the main factions in many of the [[Battlefront]] games. It is depicted mainly during World War 2 and modern times in the games. It is one of the most powerful armies in the world and is a force to be reckoned with. In WW2 setting it is more equal to the other factions compared to moder setting.

+

United States army is one of the main factions in many of the [[Battlefront]] games. It is depicted mainly during World War 2 and modern times in the games. It is one of the most powerful armies in the world and is a force to be reckoned with. In WW2 setting it is more equal to the other factions compared to setting.

 
 
 

==World War 2==

 

==World War 2==

 

US Army is an effective force with lots of firepower due to semi-automatic rifles and machine guns. During this time they relied more on numbers than quality (opposite to the Germans), and were much more equal to the opponents when compared.

 

US Army is an effective force with lots of firepower due to semi-automatic rifles and machine guns. During this time they relied more on numbers than quality (opposite to the Germans), and were much more equal to the opponents when compared.

 
 
−

[[File:US_Infantryww2.jpg|thumb|358px|US Army infantry advancing during World War 2 in France.]]

+

[[File:US_Infantryww2.jpg|thumb|358px|US Army infantry advancing during World War 2 in France]]

 
 
 

US Army is depicted in the following games during World War 2:

 

US Army is depicted in the following games during World War 2:

Line 11:
Line 11:
 

*[[Combat Mission: Battle for Normandy]]

 

*[[Combat Mission: Battle for Normandy]]

 

*[[Combat Mission: Fortress Italy]]

 

*[[Combat Mission: Fortress Italy]]

 
+

*[[Combat Mission: Final Blitzkrieg]]

 
+
 
+

==Cold War setting==

 
+

US Army is toe to toe or even an underdog to the Soviets in this setting.

 
+
 
+

[[File:US Army troops during Cold War.png|thumb|358px|US Army troops in West Germany in 1982]]

 
+
 
+

US Army is depicted in the following games during Cold War:

 
+

*[[Combat Mission: Cold War]]

 
 
 

==Modern setting==

 

==Modern setting==

 

US Army is a very powerful force is modern setting. The best equipment combined with numerous supporting units ensure that no one can match the US Army in 1-on-1 fights. The enemy has to have an advantage in numbers and firepower in order to overcome US forces. The US forces are sensitive to casualties though (modeled in [[Combat Mission: Shock Force|CMSF]] as losing points for even slight casualties) which is a weakness.

 

US Army is a very powerful force is modern setting. The best equipment combined with numerous supporting units ensure that no one can match the US Army in 1-on-1 fights. The enemy has to have an advantage in numbers and firepower in order to overcome US forces. The US forces are sensitive to casualties though (modeled in [[Combat Mission: Shock Force|CMSF]] as losing points for even slight casualties) which is a weakness.

 
 
−

[[File:US_Infantry2.jpg|thumb|354px|US Army infantry on patrol in Syria.]]

+

[[File:US_Infantry2.jpg|thumb|354px|US Army infantry on patrol in Syria]]

 
 
 

US Army is depicted in the following games during modern times:

 

US Army is depicted in the following games during modern times:

Line 31:
Line 40:
 

* Airborne

 

* Airborne

 

* Armor

 

* Armor

 
+

[[File:Bradley with INF.jpg|thumb|353x353px|US cavalry troops with Bradley M2A3 CFV in Ukraine, 2017]]

 
+

'''Combat Mission: Fortress Italy'''

 
+

* Infantry

 
+

* Armored Infantry

 
+

* Airborne

 
+

* Armor

 
+
 
+

'''Combat Mission: Final Blitzkrieg'''

 
+
 
+

* Infantry

 
+

* Armored Infantry

 
+

* Airborne

 
+

* Armor

 
+
 

'''Combat Mission: Black Sea'''

 

'''Combat Mission: Black Sea'''

 

* Stryker Brigade Combat Team

 

* Stryker Brigade Combat Team

 

* Heavy Brigade Combat Team

 

* Heavy Brigade Combat Team

 

* Infantry Brigade Combat Team

 

* Infantry Brigade Combat Team

 
+
 
+

'''Combat Mission: Cold War'''

 
+
 
+

* US Infantry Brigade

 
+

*US Mechanized / Armored Brigade

 
+

*US Armor Only (Quick Battles only)
---
Latest revision as of 06:58, 20 May 2021
United States army is one of the main factions in many of the Battlefront games. It is depicted mainly during World War 2 and modern times in the games. It is one of the most powerful armies in the world and is a force to be reckoned with. In WW2 setting it is more equal to the other factions compared to modern setting. It's close ally is the British Army.
World War 2[]
US Army is an effective force with lots of firepower due to semi-automatic rifles and machine guns. During this time they relied more on numbers than quality (opposite to the Germans), and were much more equal to the opponents when compared.

US Army is depicted in the following games during World War 2:
Cold War setting[]
US Army is toe to toe or even an underdog to the Soviets in this setting.
US Army is depicted in the following games during Cold War:
Modern setting[]
US Army is a very powerful force is modern setting. The best equipment combined with numerous supporting units ensure that no one can match the US Army in 1-on-1 fights. The enemy has to have an advantage in numbers and firepower in order to overcome US forces. The US forces are sensitive to casualties though (modeled in CMSF as losing points for even slight casualties) which is a weakness.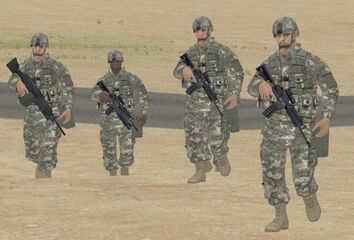 US Army is depicted in the following games during modern times:
Service Branches[]
Combat Mission: Shock Force:
Stryker Brigade Combat Team
Heavy Brigade Combat Team
Infantry Brigade Combat Team (British Forces)
Combat Mission: Battle for Normandy:
Infantry
Armored Infantry
Airborne
Armor

Combat Mission: Fortress Italy
Infantry
Armored Infantry
Airborne
Armor
Combat Mission: Final Blitzkrieg
Infantry
Armored Infantry
Airborne
Armor
Combat Mission: Black Sea
Stryker Brigade Combat Team
Heavy Brigade Combat Team
Infantry Brigade Combat Team
Combat Mission: Cold War
US Infantry Brigade
US Mechanized / Armored Brigade
US Armor Only (Quick Battles only)